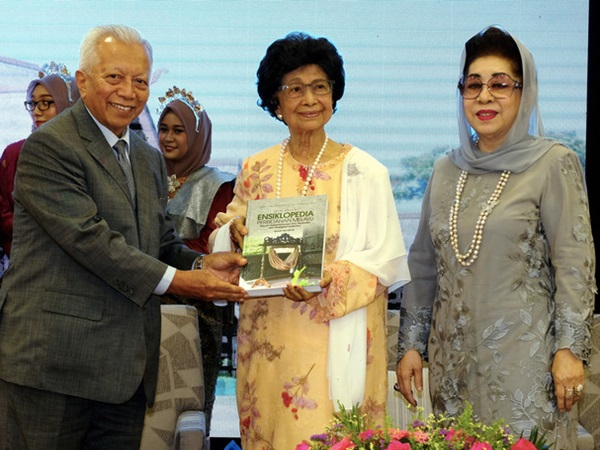 CYBERJAYA, Nov 8 (Bernama) -- Good Malay midwifery knowledge can be combined with modern treatments to benefit pregnant mothers and babies during the pregnancy and confinement periods, said the Prime Minister's wife Tun Dr Siti Hasmah Mohd Ali.
Herself a doctor since 1955, she said practices like massaging during the confinement period was a good as they were therapeutic for the mothers.
However, she said, there were Malay traditional practices during the confinement period which must be changed especially in eating styles such as reduced water intake which was detrimental to the mother's health.
"I see some women eating very little rice with salted fish and a small glass of warm water. This is not good because the mother needs energy as she had lost a lot of blood during childbirth.
"And she should not be drinking a small amount of water as she is nursing the baby and needs a lot of water," she said in her speech at the launch of the Second Edition of the Encyclopedia of Malay Midwifery at Universiti Islam Malaysia (UIM) here today.
Dr Siti Hasmah also advised mothers who are older than 35 years and are pregnant for the first time after being married for more than eight years not to go through a normal delivery as it was risky to the baby.
She said she gave the same advice to Datuk Seri Siti Nurhaliza Tarudin as soon as she found out that the country's top singer was pregnant with her first child, Siti Aafiyah Khalid.
"I knew having a child was so important to her, so I sent her a message saying "no normal delivery for you", have a caesarean section," she said.
On the encyclopedia, she said it would hopefully provide useful information to all parents, while not casting aside modern medicine.
The 354-page book published by UIM was written by the founder of Nona Roguy, Datin Sharifah Anisah Barakbah and is sold at Kinokuniya Suria KLCC, priced at RM190 each.
-- BERNAMA