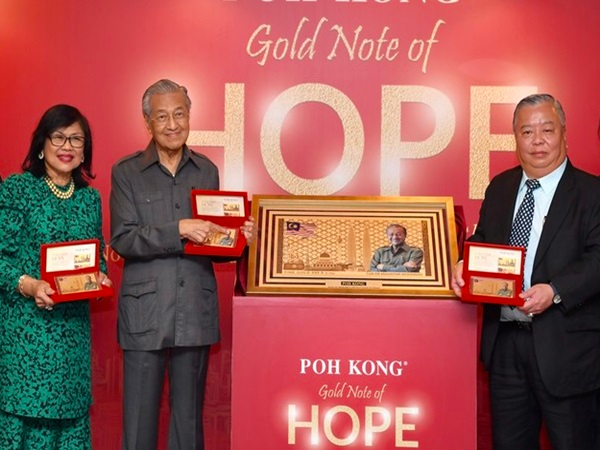 PUTRAJAYA, Nov 8 (Bernama) -- Poh Kong Jewellers Sdn Bhd, the largest jewellery retail chain in Malaysia, today unveiled a new homegrown token of patriotism, Gold Note of Hope, as a tribute to the greatest leader of the nation Prime Minister Tun Dr Mahathir Mohamad.
Priced at RM160 each, the Gold Note of Hope is set to become a local special collection item that marks a significant moment for Malaysia.
The Gold Note of Hope is available at all Poh Kong outlets starting today.
Dr Mahathir launched the Gold Note of Hope at the Perdana Leadership Foundation here today.
The 999.9 fine gold note depicts an autographed portrait of Dr Mahathir, the Jalur Gemilang, some of the country's iconic infrastructure and national flower, Bunga Raya.
Meanwhile, Poh Kong executive chairman and group managing director Choon Yee Seiong said that RM30 from each purchase of the Gold Note of Hope would be donated to Tabung Harapan.
Poh Kong is committed to contribute at least RM1 million by end of this year," he said.
-- BERNAMA