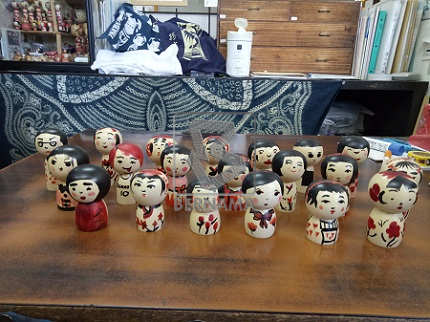 The Kokeshi dolls drawn by participants of Jenesys 2018. --fotoBERNAMA (2018) ALL RIGHTS RESERVED
By Erda Khursyiah Basir
SENDAI (Japan) (Bernama) -- As I stepped into the Ganguan Kokeshi Shop, my eyes were instantly drawn to the rows and rows of wooden dolls arranged neatly around the shop.
The dolls were of various sizes and have different painted-on expressions but retain the same basic features: they had enlarged, round heads and simple, limbless bodies.
Kokeshi dolls are Japanese wooden dolls that were traditionally made for children. It typically features the characteristics of a cute Japanese girl in a kimono and uses a red and black colour scheme.
I marvelled at the dainty and detailed paintwork on the Kokeshi dolls and wondered the amount of finesse needed to produce such intricate work.
I, along with other participants of the Japan-East Asia Network of Exchange for Students and Youths (Jenesys 2018) programme, were about to find out.
The Ganguang Kokeshi Shop allows visitors to not only watch the masters at work but to try their hand at Kokeshi doll hand painting as well.

Master Kokeshi artisan Akira Suzuki explaining the steps of hand painting a Kokeshi doll. --fotoBERNAMA (2018) ALL RIGHTS RESERVED
THE HISTORY
The shop is just one of the many at the Akiu Craft Park, a facility that houses workshops for artisans producing traditional Japanese crafts.
The store and workshop owner Akira Suzuki, 58, and wife Hideko Suzuki, 53, greeted us upon arrival and welcomed us into their shop.
Akira, who hails from Sendai in the Miyagi prefecture, is a third-generation Kokeshi doll maker. He inherited his skills from his father and grandfather.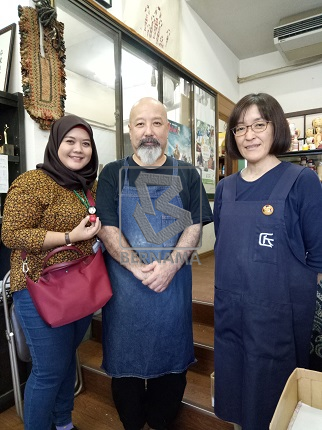 The writer (left) with Akira and his wife. --fotoBERNAMA (2018) ALL RIGHTS RESERVED
He tells us that Kokeshi dolls, which first made its appearance 300 years ago, used to be a children's toy.
"While the boys play with tops, the girls would play with Kokeshi dolls. The dolls come in various styles, shapes and designs. Sendai Kokeshi dolls, for example, are generally slender-shaped to make it easier for children to hold them. It also has 'kind eyes' and chrysanthemums will be drawn for the dress," said Akira, as translated by the programme coordinator Kajihara Akiko.
Today, however, Kokeshi dolls are regarded as something more valuable. It has become a collector's item and is often given as souvenir or gifts to celebrate a special occasion.
Kokeshi dolls are said to have originated in Tohoku, a region in the north east of Honshu, Japan's largest island.
Traditional Kokeshi dolls have distinct characteristics in terms of design and colour. It is also reflective of its maker and the region in which it was created.
Modern Kokeshi dolls, meanwhile, feature vibrant colours and are less restricted in terms of creativity and design.
Akira learned to make the 'Enakichi' style of Kokeshi from his father. His doll designs have won him the Prime Minister's Award in a Japan-wide Kokeshi contest in 2015, as well as various awards in the annual National Kokeshi Contest.
Although he specialises in making traditional Kokeshi dolls, Akira also spends time on making the more modern 'kawaii Kokeshi' (cute kokeshi) dolls imbued with traditional features.
'DIY' KOKESHI DOLL
Akira invited the Jenesys2018 participants to sit at designated tables in his shop where painting supplies has been laid out.
We were surprised to be told that we would be painting our own Kokeshi dolls to our own design and liking.
Every participant seemed to take the 'safe route' and chose the smaller-sized unpainted dolls. The smaller it is, the easier to draw – or so we thought. We would soon learn otherwise.
Akira then drew our attention to the whiteboard, where drawing instructions were explained in six steps. He explained each step as we worked on our dolls.
"First off all, hold your breath! Please draw the eyebrows and lines that indicate the eyes and nose.
"This is the typical hairstyle of wooden Kokeshi dolls. It is a popular style for Japanese girls, especially in the olden times.
"Another characteristic of the Kokeshi doll is a very small mouth. For the Japanese, a small mouth is considered beautiful. Many (girls) put their lipstick only at the centre instead of the whole lips and this applies for Kokeshi dolls too," he explained.
He then instructed us to draw the hair accessories and the dress, which is typically derived from common kimono flower motifs. Pink paint is used to paint on blush on the dolls' cheeks.
We were told to not use each brush on more than one colour so as the keep the colours clean and vibrant.
"If you make a mistake (during your drawing and painting process), you can paint the whole face of the Kokeshi doll in black and make it the hair. You can start over using the other side as the face. Bear in mind, you can only make this mistake once," Akira quipped.
A LESSON IN JAPANESE ARTS
We soon realised that drawing onto the small wooden blocks was harder than we imagined it would be. However, it was a priceless experience and allowed us an insight into the Japanese arts, tradition and culture.
"After the painting process is completed, write down your name at the bottom or the back of the doll. Please let us know because the entire doll will be coated with lacquer to give it a beautiful shine," Akira told us.
After our dolls were lacquered, we were pleasantly surprised to be told that we could bring it home with us as a souvenir.
Before we parted, Akira reminded us that no matter how our doll looked, it was still special because it was the only one of its kind in the world, as every person imparts a piece of themselves in their art.
----------------------------------------------------------------------------------------------------------------------------------------
SIDEBAR
JENESYS2018
Jenesys is a youth exchange programme launched in 2007 between the Asian Pacific region and Japan.
Among its objectives is to promote trust, sharing and understanding of Japanese culture, politics, economy, history and policies so that a foundation can be built for future cooperation.
Twenty Malaysian participants from varying backgrounds joined Jenesys2018, some of whom were from the media, universities, government agencies and uniformed bodies.
The programme organised by the Japan International Cooperation Center (JICE) took place from Sept 25 to Oct 2.
Participants were brought to the Railroad Museum in the Saitama prefecture, the JR East Shinkansen Depot andHitachi Solutions East Japan, Ltd in the Miyagi prefecture as well as the Metropolitan Police Department (Traffic Control Center) in Tokyo.
They were also treated to a ride on the Shinkansen, Japan's fastest rail transportation capable of travelling at a speed of 320kmph and stayed with Japanese host families and brought to popular tourist attraction sites.
Translated by Sakina Mohamed
-- BERNAMA