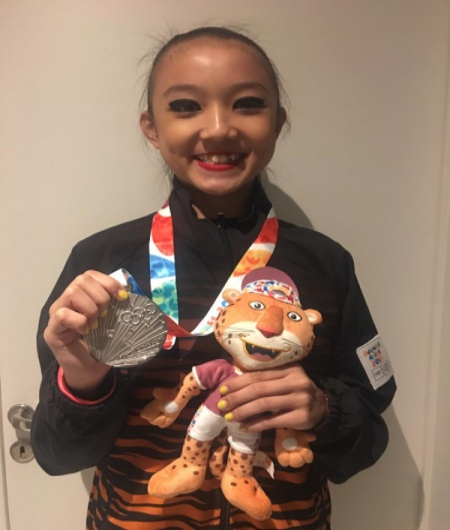 KUALA LUMPUR, Oct 11 (Bernama) -- National teen gymnast Rayna Hoh Khai Ling bagged a silver medal at the Youth Olympic Games (YOG) in Buenos Aires in Argentina on Wednesday.
The Malaysian Gymnastics Federation (MGF) through WhatsApp application announced that 15-year-old Rayna was placed in the Max Whitlock team and contributed points to the team through hoops and clubs disciplines with 15,600 points and 15,050 points respectively.
This mixed team event involves several disciplines including acrobatic, male artistic gymnastics, female artistic gymnastics and rhythmic gymnastics.
The multi-discipline team event was introduced for the first time in this year's game and the team that collected the lowest points crowned as the winner.
A total of 13 teams, using the names of world gymnastics stars, had their members randomly chosen to compete.
The gold medal went to the Simone Biles team after collecting 293 points while Rayna's Max Whitlock team collected 349 points for the silver medal.
The bronze medal went to Oksana Chusovitina team that accumulated 352 points.
Rayna was the winner of five gold medals at the recent Malaysia Games (Sukma) in Perak.
She qualified for the Youth Olympic Games after her impressive performance at the 16th Junior Rhythmic Gymnastics Asia Championship in Kuala Lumpur in April.
-- BERNAMA