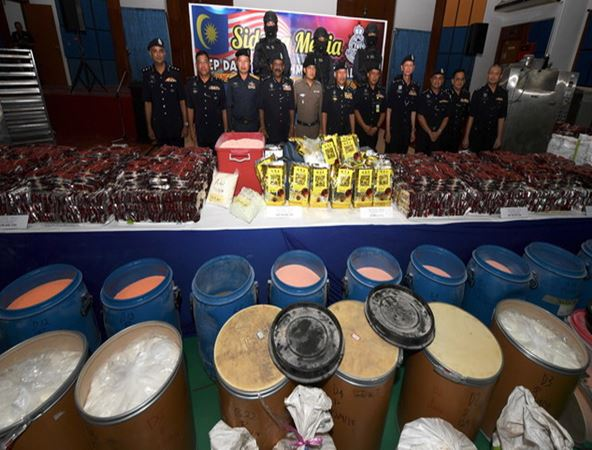 BUKIT MERTAJAM, Sept 14 (Bernama) -- Police have uncovered a drug processing factory and seized various types of drugs, worth RM72.5 million, in a raid at the Small and Medium Industry Area in Bukit Tengah last Wednesday.


The drug seizure is believed to be the biggest since 1996.


Bukit Aman Narcotic Criminal Investigation Department director Datuk Seri Mohmad Salleh said the seizure was made following the arrest of two men and a woman, aged between 30 and 46, in Pengkalan Hulu, Perak at 8 pm on Monday.


"Following their arrest, police raided a factory in Bukit Tengah at 3 am Wednesday and found that the premises is used as a place to process eramin 5. It is equipped with more than 15 machines, worth RM500,000, to produce the drug.


"The police also seized 2.13 million eramin 5 pills, eramin 5 powder (742.6 kilogramme), syabu (27.3 kilogramme), 5,080 ecstasy pills and 53.7 kilogrammes of various chemicals used to produce the eramin 5 drug. All the drugs are worth RM72.5 million," he told a media conference here today.....