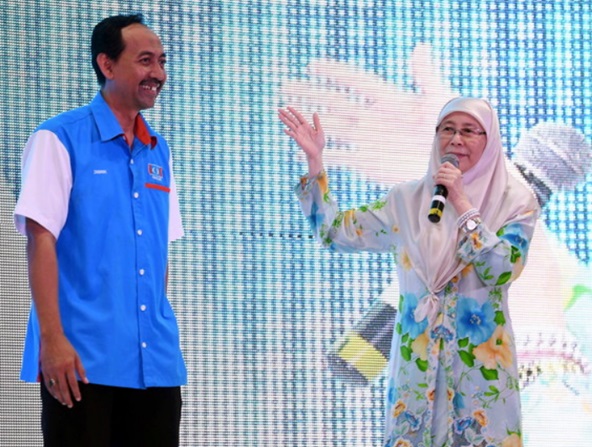 KLANG, Aug 3 (Bernama) -- Voters in the Sungai Kandis state assembly constituency must retain the candidate from PKR as their people's representative as the party had proven its ability to run the state well since 2008.
Deputy Prime Minister Datuk Seri Dr Wan Azizah Wan Ismail said there was no need for the voters to change to a representative from another party, especially since the Federal government was now run by Pakatan Harapan (PH).
"Why should you change (the people's representative)? Tomorrow, just vote our people (PKR).
"Why do you want to give them (victory to BN). The federal government, the Selangor government are all held by PH...why change (to other candidates besides PKR)," she said in her speech before the by-election here tonight.
Also present were PKR deputy president who is also Economic Affairs Minister Datuk Seri Mohamed Azmin Ali, Minister of Water, Land and Natural Resources Dr Xavier Jayakumar, Selangor Menteri Besar Amirudin Shari and PKR candidate in the by-election Mohd Zawawi Ahmad Mughni.
The PKR president said voters in Sungai Kandis state constituency should vote for Mohd Zawawi who had a good track record compared to the BN candidate.
"Selangor is a rich state, we want a good administration, so vote for ustaz (Mohd Zawawi) who has a good track record.
"The other candidate (BN) can change (his struggles), our candidate has served the people from the very beginning.
"Sungai Kandis voters must vote for the PKR, PH candidate...do not waste your vote, and vote for ustaz as the people's representative for Sungai Kandis state seat," she said.
Meanwhile, Dr Wan Azizah said PH had not decided on a candidate from the component parties to contest the Seri Setia state seat by-election.
The Sungai Kandis state constituency by-election tomorrow sees Mohd Zawawi in a three-cornered fight against BN candidate Datuk Lokman Noor Adam and Independent candidate K. Murthy
The by-election is being held following the death of its incumbent Mat Shuhaimi Shafiei who died of lymphoma cancer on July 2.
Meanwhile, speaking to reporters later, Dr Wan Azizah said traditionally candidates are chosen from the party which contested the seat before.
The Seri Setia state seat fell vacant after its people's representative Professor Dr Shaharuddin Baharuddin from PKR died yesterday from colon cancer.
Dr Wan Azizah also said her husband PKR de facto leader PKR Datuk Seri Anwar Ibrahim could not attend the talk tonight as he was not well.
-- BERNAMA