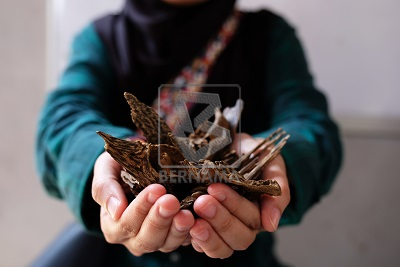 By Sakini Mohd Said
ALOR SETAR (Bernama) -- The karas tree produces a valuable national commodity called agarwood (
gaharu
), which price can go up to tens of thousands of ringgit a kilogramme.
However, in order to extract the valuable resin of agarwood from the karas tree, it has to be wounded first.
"Other trees may only produce when it is healthy but the karas is different. It will only produce (the resin) if it is injured or damaged. The longer the tree stays damaged or infected with illness, the better the quality of agarwood produced," said Ramli Harun, 67, who has been managing two karas tree plantations since 1990.
His plantations are in Pokok Sena and Jalan Hutan Kampung, both in Alor Setar. Bernama had the opportunity to interview him during a programme organised by the Malaysian Timber Industry Board (MTIB) recently.
Ramli said that infected karas trees will experience cell death and the reaction to fight the infection will result in the production of agarwood resin.
There were two methods to injure a tree in order to produce the reaction. Trees could be injured naturally (struck by lightning, insect or bacterial infection, crushed by other trees) or artificially through human acts like hacking at the tree to expose the bark, tying the trunk with a wire or inoculating it with fungi.
"Injuring the tree via inoculation has been proven to be fastest in inducing agarwood formation.
"The chances of karas producing agarwood through inoculation is 90 percent," he revealed.
TWO FACTORIES
The Kuala Setar-born Ramli has been in the agarwood business for 20 years and says that inoculation usually takes place when the karas tree has matured, at between five and 10 years old with a trunk circumference of at least 15cm.
Each tree would then be drilled with a hole about six inches wide for the vaccine to be injected in. The number of holes drilled is subject to the girth and height of the karas tree.
"Agarwood would form about a year after inoculation. We can then proceed to chopping down the tree and extracting the agarwood oil from it," he explained.
Ramli has two factories that process agarwood oil on a small scale in Langkawi and Alor Setar.
"A 12mm bottle of agarwood essential oil costs RM500 while the one-litre bottle costs RM41,000.
"It is expensive owing to the difficulty in extracting agarwood oil. Despite its price, there is always demand, particularly from the Middle Eastern countries. However, the supply is never enough," he said.
INSUFFICIENT SUPPLY
Ramli said there were times when he had had to source agarwood supply from others in order to meet demands, which could not be fulfilled by his 0.1 hectare-sized plantations.
He has difficulty finding a source of supply, however, because majority of agarwood farmers did not know that karas trees needed to be wounded to produce agarwood. This further contributes to the poor supply.
"We are only able to produce about 2.5 litres of essential oil every month but the demand exceeds our supply. So we try sourcing from other farmers but found that many had little idea of what they were doing. They had assumed that they could get rich merely by planting karas and then harvesting it.
"They had thought that they could sell a tree for RM2,000-RM3,000. But when we inspect the trees, we found that they were not producing agarwood because they had not been wounded, so how can they expect to sell the trees?" he said.
Agarwood is prized for its oil which does not only smell good, but is said to have medicinal properties. It is used in perfumes, medicines, cosmetics, food and religious products.
Demand is particularly high in countries like Oman, Qatar, Kuwait, Saudi Arabia and the United Arab Emirates (UAE).
NOT ENOUGH KNOWLEDGE
In Malaysia, the agarwood industry started gaining prominence in the 1970s. MTIB reports that agarwood export is valued at RM16 million in 2017, a rise from RM15.16 million in 2016.
However, 80-90 percent of the agarwood are sourced from the country's natural forests, leading to the depletion of the commodity. It is now being regulated under Appendix II of the Convention on International Trade in Endangered Species of Wild Fauna and Flora (CITES).
To address the demand and depletion in supply, the government started encouraging the planting of karas in Malaysia in 2000. As of August 2018, the country has 194 licensed karas growers in charge of the 1.62 million karas trees grown over an area totalling 1,863 hectares.
However, the yield was not as expected as many were still ignorant about the process of agarwood production.
MTIB Senior Assistant Director of Forest Plantation Mohd Zamakhsyary Mustapa said it was one of the agency's biggest challenges in maintaining the sustainability of the commodity.
"The issue is the growers are uneducated in the growing of karas. When we asked them why they got into it, they said they were merely listening to the advice of friends who told them that growing karas could turn them into millionaires.
"That is why they are those who have been planting for 10 to 12 years without yield. They had no idea that karas needed to be inoculated to produce agarwood," he told Bernama.
Their ignorance over the care of karas trees led to dismal yield despite government efforts. Many had assumed that it was a hardy tree as most forest trees were and were shocked when only tens out of the thousands of trees they had planted survived.
RELUCTANT TO ASK
MTIB and the Forestry Department have held countless seminars and workshops on agarwood farming as well as availed their officers for assistance, yet very few were keen to seize the opportunity to beef up their knowledge on the subject.
Many, instead, chose to seek tips from social media or ask from those unfamiliar with the care of karas trees.
"Due to their lack of knowledge, many thought that inoculation had to be done all at once when in actually can be done in stages.
"It is not cheap to inoculate the trees as it can cost between RM100 and RM300 a tree. Vaccine sellers would usually convince farmers to inoculate all their trees at once with the promise that it would put them on the fast track of becoming a millionaire.
"Imagine if a farmer were to inoculate 100 trees and each vaccine costs RM300. That would have set him back RM30,000. This is one of the reasons why some growers give up halfway," Mohd Zamakhsyary said.
MTIB would instead åadvise farmers to not inoculate all their trees at once. Aside from making it easier on the farmers to sustain their business, it also ensures that they have a continuous supply of agarwood.
"If he has 1,000 trees, he can start by inoculating 50 to 100 trees first. After the first yield, he can start on the second round of inoculation, and this will lead to a continuous supply," he explained.
He said those who tend to seek advice from MTIB were from among the non-Bumiputera.
"MTIB agar hopes that more Bumiputera agarwood producers would come to see us and seek advice, so that they would not make decisions that would cause them to suffer losses," he said.
Translated by Sakina Mohamed
BERNAMA