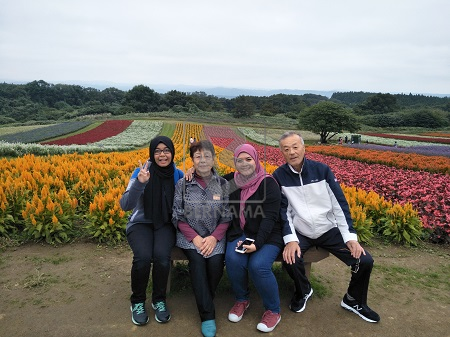 The writer (second from right) with foster parents, Oizumi Shuichi and Oizumi Tsueko and Aisha Rosheila Mohd Ridzuan. --fotoBERNAMA (2018) ALL RIGHTS RESERVED
By Erda Khursyiah Basir
MIYAGI (Japan) (Bernama) -- I had mixed feelings as I travelled from Sendai, the capital of Miyagi prefecture in northern Honshu, to the small town of Kami-machi or Kami-town to meet my "family" with whom I would be spending the next three days.
I found the prospect of experiencing the Japanese way of life exciting but was a little worried whether or not I would be accepted with open arms by my foster family.
My three-day, two-night stay with my Japanese family was made possible when I participated in the Japan-East Asia Network of Exchange for Students and Youths (Jenesys2018) programme between Sept 25 and Oct 2, organised by the Japan International Cooperation Center.
The host family programme was part of Jenesys2018, and it was aimed at promoting a better understanding of the way of life and culture of the people of the Land of the Rising Sun.
A total of 20 Malaysians from various backgrounds, including members of the media, university lecturers and students, government servants and members of uniformed bodies, participated in Jenesys2018.
Before we met our foster family, the programme coordinator reminded us to be on our best behaviour as the Japanese culture was not the same as Malaysia's.
I also met fellow Jenesys2018 participant Aisha Rosheila Mohd Ridzuan, 20, who was also assigned to stay with my foster family. Aisha Rosheila or Sheila as she is known as among her friends is a second-year student pursuing East Asian studies at Universiti Malaya's Faculty of Arts and Social Science.
Although the organisers gave us a guidebook containing some common Japanese phrases and words that we may need to use to communicate with our foster families, I was relieved to learn that Sheila could speak Japanese. We were also given a mobile phone to contact our coordinator just in case we ran into problems.
FOSTER FAMILY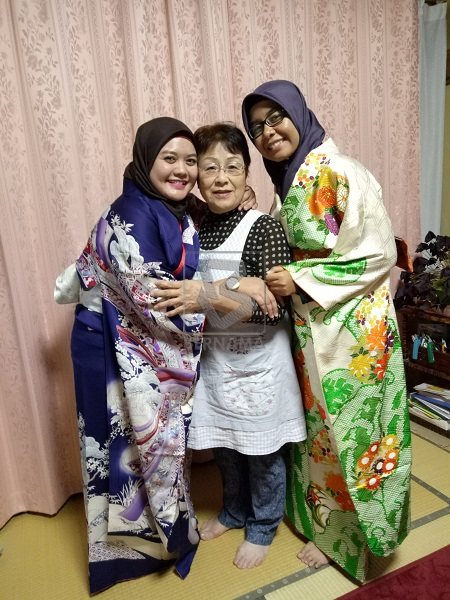 The writer (left) with foster parent (Okaasan) Oizumi Tsueko and Aisha Rosheila Mohd Ridzuan. --fotoBERNAMA (2018) ALL RIGHTS RESERVED
It took about an hour for us to reach Kami-machi from Sendai by bus. The sky was blue and the weather good. As we were going into the countryside, we passed by vast tracts of scenic paddy fields. It was a perfect start to our programme, I felt.
Finally, we reached the Yakurai Culture Center, where we were to meet our respective foster families. We were told earlier that our foster parents would probably be in their 60s but the people who were gathered there looked youthful, healthy, active and stylish.
Suddenly, I caught sight of a bespectacled, short-haired and stylishly dressed woman observing me. She whispered something to the man beside her and they took a look at the file that they were holding before glancing at me again.
I guessed they were Shuichi and Tsueko Oizumi, my foster parents, as they must have recognised me since my personal details and photograph were submitted to them earlier,
The couple flashed a friendly smile at Sheila and me, immediately putting us at ease. We introduced ourselves to our foster mother Tsueko, 68, and foster father Shuichi, 71, who were delighted to hear Sheila speaking Japanese.
On the way to their house, we asked them how we should address them. Should we call them 'Okaasan' and 'Otousan', the Japanese terms for 'mother' and 'father'?
Shuichi then suggested that we address them as 'Ojiisan' (grandfather) and 'Obasan' (grandmother). Finally, they agreed to allow us to call them 'Okaasan' and 'Otousan'. And, to them, we were 'Kusha-san' and 'Sheila-san'.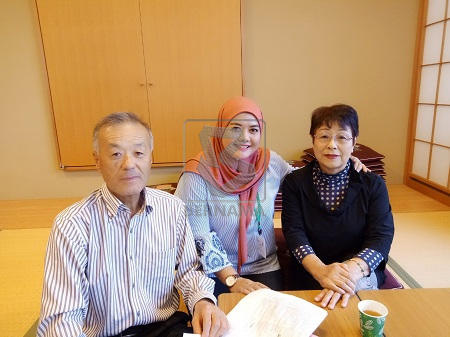 The writer with foster parents, Oizumi Shuichi (Otousan) and Oizumi Tsueko (Okaasan). --fotoBERNAMA (2018) ALL RIGHTS RESERVED
JAPANESE CULTURE
Tsueko and Shuichi, who regularly participate in exchange programmes and have hosted young people from various countries, live alone as their two children reside in Tokyo where they work. The couple has four grandchildren.
Okaasan showed us our room which featured typical Japanese characteristics such as sliding doors that were plastered with beautiful wallpaper. We were also taken on a tour of the house. We noticed that the bathroom, toilet and washbasin were situated in separate rooms and were informed that the bathroom and toilet floors and washbasin should be kept dry after use.
We were also reminded not to take our shower late at night due to the cold weather and to wish them 'yasuminasai' (good night) before retiring,
On our first evening there, we were served typical Japanese fare like 'tempura' and 'sashimi' prepared by Okaasan. Before eating, it is normal for the Japanese to say 'itadakimasu' (it means, 'I humbly accept') before clasping their hands and bowing their heads slightly. This ritual is linked to Buddhist principles that advocate respect for all living beings.
We helped our host to clear the table after dinner, making sure we separated the food waste as we knew fully well that the Japanese were firm supporters of recycling.
We also got the chance to try on Okaasan's kimono, the traditional Japanese robe with wide sleeves and tied with a sash. Our foster mother also taught us to prepare 'matcha' or green tea, Japanese-style.
GETTING TO KNOW KAMI-MACHI BETTER
The next morning after breakfast, we were taken on a tour of the neighbourhood where our foster family lived.
The temperature was about 14 degrees Celsius and the sight of the paddy fields, the surrounding greenery and Mount Yakurai, which is a symbol of the rural town of Kami-machi, had a calming effect on us.
Agriculture is the mainstay of the economy here. Our foster father, a government retiree, has his own paddy field and also plants vegetables and fruit trees in his farm beside his house. He grows cabbage, cucumber, carrot, radish, onion and chilly, as well as kiwi and persimmon, in his farm.
Our hosts also took us to Kami-machi, which is well-known for the natural beauty of its surroundings. One of the places we stopped at was Kirigomeyaki, which is a museum and ceramic workshop.
We also visited the beautiful Yakurai Garden and stopped at Yakurai Golf Club where our foster father plays golf with his friends.
It was a long and tiring day for all of us and I could not help admiring my hosts' boundless energy and agility. I asked how they kept themselves looking youthful and their reply? Eating lots of vegetables, exercising regularly and doing things that make them happy. Okaasan enjoys dancing and making handicrafts while Otosan likes to participate in sports and play golf and volleyball.
FOND MEMORIES
That night, we exchanged souvenirs with Okaasan and Otousan. They presented us with a kimono, Japanese clogs, a packet of rice grown by Otousan and handicrafts made by Okaasan herself.
No words can describe their graciousness and the hospitality extended to us. All we could do was to thank them profusely – 'domo arigato', Okaasan and Otousan!
I invited both of them to visit Malaysia and, of course, visit me at my house. I got a little teary eyed when Otousan turned to me said: "If you come to Japan again, please stop by at our house. But then, I don't know if I will still be around then."
The next morning, it was time to bid our lovely hosts 'sayonara' (goodbye) which we did with a heavy heart. My stay there might have been brief but my fond memories of Otousan and Okaasan will remain etched in my mind.
Meanwhile, the other Jenesys2018 participants also had memorable experiences with their respective foster families. Some of them got to visit apple orchards owned by their hosts and tried their hands at planting 'wasabi', a Japanese plant the root of which is used as a spice and has a very strong flavour.
Others reported that they had communications issues and had to resort to using certain voice translator applications on their smartphones to have some "meaningful" exchanges with their hosts.
Translated by Rema Nambiar
-- BERNAMA