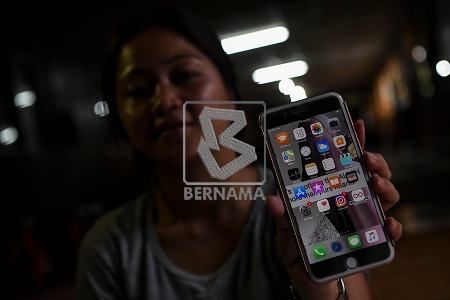 Lydia Anak Gimang, 23, who is one of the occupants of the Anthony Bau Longhouse, Sarawak proudly shows her smartphone. She said she became Internet-savvy while working in the civil service in Kuching for two years. --fotoBERNAMA (2018) ALL RIGHTS RESERVED
By Sakini Mohd Said
SIBU (Bernama) -- Audrey Iverson Yii snatches his mother's smartphone from her hand and presses his tiny fingers on its screen. Something appears on the screen and the two-year-old starts to giggle.
The friendly toddler, who had only recently learnt to speak, runs towards this writer and shows her the phone. He is actually playing a digital game where the player can transform the main character, a virtual cat, into different forms.
That is not all. The little boy pokes at the YouTube app icon and his favourite cartoon character "Doraemon" appears on the screen, much to the surprise of this writer who is amazed how he could have "mastered" the smartphone when there is absolutely no telecommunications services or Internet access in the remote village where he lives.
Audrey and his family live at the 20-door Anthony Bau Longhouse, located at a village in Nanga Sugai, Rantau Tapang in Julau, which is about 120 km from Sibu.
From Julau, the longhouse – located at the upstream stretch of Sungai Mujok – is only accessible by boat with the journey from the jetty at Pangkalan Entabai in Julau to Nanga Sugai taking about five hours.
This writer and other members of the media had the opportunity to visit the longhouse last month when they covered a mobile clinic mission organised by UMW Corporation Sdn Bhd in collaboration with Mercy Malaysia (Malaysian Medical Relief Society).
HOW THEY BECAME INTERNET-SAVVY
Before embarking on their journey to the Anthony Bau Longhouse, the media team was told that only satellite phones could be used at Nanga Sugai as neither conventional nor mobile telecommunications services were available there. Or Internet service for that matter.....