Ex-Journalists Start New Life Chapter
By Norul Akma Mohd Zain
GEORGE TOWN (Bernama) -- Journalists will brave through rain, hail and shine, travel across seas and go into the midst of wars and natural disasters to get a story.
Sometimes, in the pursuit of reporting the truth, they face the risk of being sued, harmed and even killed.
However, the struggles they have to endure in the bid to deliver news matters little to them compared to the satisfaction of being able to effect positive changes in the community and the country through their work.
Puppet Master, 4, Captivates Audience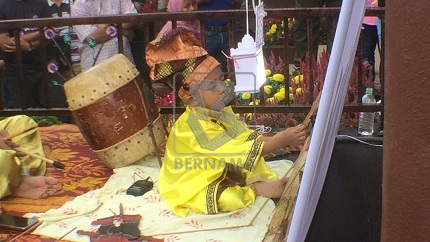 By Tengku Faezah Tengku Yusof
KUALA LUMPUR (Bernama) --He may be only four, but Aqfierudzar Rizq Mohd Sulhie is already making a name in the wayang kulit world.
He earned the title of tok dalang (wayang kulit puppet master and storyteller) two months ago, while performing in the programme 'Joyful Malaysia' at the lobby of Kuala Lumpur International Airport 2 (KLIA 2). The programme, which ran from a month starting Sept 9, was organised by the Kelantan Tourism Information Centre (TIC) with the cooperation of the Malaysia Airport Holdings Berhad (MAHB).
His father Mohd Sulhie Yusof, said the audience, particularly foreign tourists, were enthralled by his son's ability to tell a captivating story while manoeuvring wayang kulit puppets from behind a white screen.